Car giant Toyota slumps to its first ever loss
You know things are bad in the auto industry when even money-making machine Toyota is posting a loss...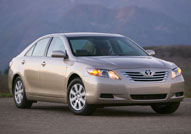 Japanese carmaker Toyota said today that it will lurch into the red this year for the first time in its history, as it suffers from sliding sales and a rising currency. After more than 70 years of relentlessly turning a profit, come rain or shine, Toyota is set to record an operating loss of Y150bn (£1.1bn) in the current financial year – a pretty dramatic slump for a company that made a record £17bn profit last time round. No wonder president Katsuaki Watanabe described the current crisis as a 'once in a hundred years' event...
Of course, Toyota's hardly the only carmaker having problems. The US has just signed off on a $17bn rescue package for its Big Three, while Volkswagen is tapping state funds in Germany and the UK government is mulling a bail-out of Jaguar Land Rover. But Toyota had previously seemed impervious to market shocks; since 1941 it has finished every single year in the black, and continued to take business off its rivals (which is partly why GM and co are in their current mess). In fact, it seemed on course to become the first carmaker to sell 10m vehicles in a year. But as the market dries up everywhere – Toyota's sales fell by a third in the US last month, and by a quarter in China - it's now slashed its annual sales forecast to 7.54m.

And unfortunately, falling car sales are not Toyota's only problem. The rising value of the yen, which is now up about 25% against the dollar this year, has also hammered the profits of the big Japanese exporters (we've already seen rival Honda slash its profit forecast by 67%). The Japanese government admitted today that exports were plummeting across the board: down 34% to the US, 31% to the EU and a rather alarming 25% to China. This news from Toyota will send another shockwave through an economy that's already slipped back into recession.
Toyota will now launch a big cost-cutting drive (although given it's already a pretty lean and mean operation, this might be easier said than done). Apparently the plan is to slash executive bonuses by about 10%, put expansion plans on ice, and trim back its contract workforce. It's already been cutting down production in the US to try and avoid having huge stockpiles of unsold vehicles hanging around everywhere.