Car-maggedon: Traffic jams cost the UK $20.5bn a year
The annual cost of London's congestion will rise 71% to $14.5bn by 2030, according to a new study.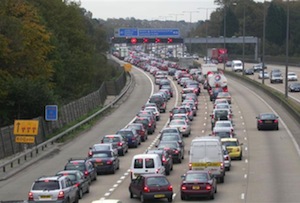 All that waiting in traffic jams is not only a frustrating waste of time for everyone stuck at the wheel twiddling their thumbs, but is costing the UK a staggering $20.5bn (£12.9bn) a year, according to a study by the Centre for Economics and Business Research.

That is set to screech ahead 63% to $33bn by 2030, more than double the 31% rise expected in France and Germany, where congestion cost $22.5bn and $33.5bn in 2013 respectively.

In the US, the cost of congestion is due to rise 50% to $186.2bn a year in the next 16 years, according to the research, which estimated the costs of wasted time and fuel, as well as the indirect cost of doing business in a congested area and the economic impact of higher CO2 emissions. The cumulative costs from 2013 to 2030 across the four countries amount to a grand, eyewatering total of $4.4tn.

Traffic jams are currently losing London $8.5bn a year, despite all the investment in public transport. The report forecasts that will jump 71% to $14.5bn by 2030. In 2013, congestion cost each London household $4,325, according to the study, almost double the $2,320 incurred by the average British car commuter.

'This report shows that advanced economies could be heading for "car-maggedon",' said Kevin Foreman, the geo-analytics general manager at Inrix, the travel information provider that commissioned the study. 'Improving public transport infrastructure may provide more choice for travellers, but it won't solve the problem.'

Government ministers have repeatedly talked up their commitment to big-money road projects, but road-building actually fell between 2011 and 2013, according to the FT. While it would be impossible to totally eliminate traffic jams, it looks like commuters and politicians have resigned themselves to being a nation stuck behind the wheel.