Career masterclass: Deal with an office bully
Bullying doesn't end with someone nicking your dinner money or flushing your head down the school loo. The good news is it can be beaten.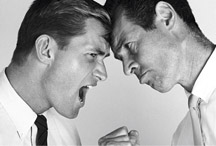 Gather proof. Document everything, however small. Save bullying emails, keep a diary of incidents and secure witnesses. Accusations of bullying are serious. Can you support yours?
Confront them. Keep your challenge specific, polite and firm: 'I find it demeaning when you mock me in front of my reports, and I'd like you to stop, please.' Stand tall, maintain eye contact and, if you're met with a threatening silence, hold your nerve.
Be the bigger person. If you can't confront your bully, rise above him or her. Ignore attempts at childish provocation, smile calmly and walk away. Now who looks like the fool?