Be careful about letting your hair down this Christmas
Most managers aren't really looking forward to their company's Christmas party this year...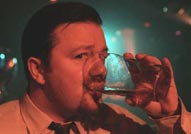 You'd think that after the year we've had, most of us would quite fancy the idea of getting out of the office and sharing a Christmas drink and a vol-au-vent with our colleagues. But apparently not. According to a new survey by the Institute of Leadership & Management, 61% of UK bosses consider the Christmas party a 'behavioural minefield' – while one-third said they didn't enjoy it one little bit. And they're not just being festive scrooges; they're worried about what might go wrong…

It's not easy being the boss at the Christmas party. On the one hand, it's good to let your hair down, relax, and spend some quality time with your staff. But at the same time, you have to remember that once the festivities are over, you'll be the one having to lay down the law in the morning – and it's hard to maintain the same degree of authority or professionalism when you were inappropriately drunk (true of 20% of managers) or caught canoodling with a colleague (another 10% - probably a sub-section of the drunk 20%) the night before. Given that many companies have been forced to implement a new behavioural policy after years when things got really out of hand, some managers clearly find it hard to strike this delicate balance.

On the other hand, they're not helping themselves. About one in three of the survey's respondents said they hadn't bothered changing their behaviour at the festive bash since joining the managerial ranks. But whereas the spontaneous breakdancing and canoodling might be good for the street cred when you're part of the rank-and-file, it doesn't work so well when you're the boss.

And maybe companies have to bear some of the blame too. Two-thirds of those managers surveyed were disappointed by the amount of effort their company put into the Christmas bash, with 34% saying that their shindig was cobbled together on a shoestring budget. Financially that might be understandable at the moment – but if the party was more fun (a bar that didn't run dry after your second plastic beaker of house red, a DJ that didn't play Slade on repeat, that sort of thing), perhaps attendees would be less likely to come up with their own forms of entertainment?
Come to think, maybe it's safer all round for you to cancel the Christmas party and use the money to buy your staff a gift voucher instead. Bah humbug.

In today's bulletin:
Thank goodness for the Germans, as Bank bashes the City
'Snow chance' - angry banks block £1bn SME fund
BA gets court to block Christmas strike
Pink pound wobbles in the recession
Be careful about letting your hair down this Christmas