Carney to bankers: Put up with new rules or quit
The Bank of England governor was unmoved by the industry's protests.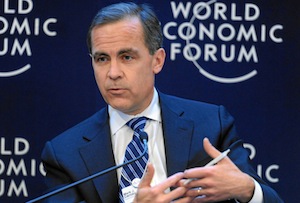 Board-level bankers who can't cope with being personally criminally liable for the misbehaviour of their minions should quit, Bank of England governor Mark Carney said on Sunday.

'One of the legacies of the crisis in the US and by and large in the UK was that the individuals who ran the institutions got away. They got away with their compensation packages, they got away without sanction,' he said at an event on the sidelines of the IMF's annual meeting.

'Maybe they were not at the best tables in society after that, but they're still at the best golf courses. That has to change.' (The Canadian is apparently an ice hockey fan himself.)

'If you're chair of an audit committee, you have responsibility for the activities of an institution. And if you don't think you can discharge that responsibility, you shouldn't be on that board,' he warned.

Carney said the new criminal sanctions were necessary as it was nigh on impossible to stop bankers betting the house through bonus clawbacks and the like. 'It's very hard to design compensation for systemic outcomes, to internalise financial stability risks. So you need something more,' he said.

The Canadian's strong words came after reports emerged last week that two HSBC directors were about to resign in protest at new rules that could mean jail time of up to seven years for 'reckless' decisions that led to a bank's collapse.

Unsurprisingly, bankers are pretty concerned about the prospect of being locked up, with some anonymously telling the FT last week it would 'dilute' the quality of directors. Blackrock vice chairman Phillipp Hildebrand, who joined Carney in the IMF panel discussion, also warned against creating a 'cops and robbers' situation, where reams of regulation and heavy fines stopped banks going about their normal business.

Clearly, there has to be a balance between stopping bankers' taking bets that could bring their employer or even an economy down (as far as that sort of thing can be prevented in advance), and not strangling the finance industry. For his part, Goldman Sachs alumnus Carney doesn't seem too concerned about the latter.