Carney to world's banks: no more bailouts
Bank of England boss Mark Carney announces a global plan to make banks cover their own losses.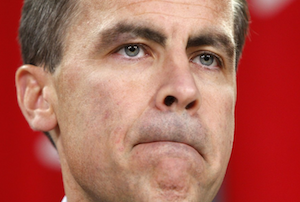 Sometimes you need a little tough love. Sick of bailing out their toxic asset junkie commercial cousins, the world's central banks have agreed on a plan to force them to clean up their own mistakes.
Mark Carney, speaking in his capacity as chair of G20's Financial Stability Board (FSB), announced that the world's biggest banks would need in future to be bailed out by their own creditors, by raising hundreds of billions of pounds in debt that would then convert to equity in the event of a 2008-style collapse.
The FSB was created by the G20 in 2009 to oversee the global financial system, and has been working for years on an agreement that would prevent the need for further eye-watering government bailouts. Carney hailed the agreement, which will come into effect in 2019 if accepted by the G20 in Brisbane this week, as a 'watershed in ending "too big to fail" for banks'.