Carphone boss David Ross quits amid share scandal
Carphone Warehouse co-founder David Ross has quit after admitting he's been using his shares as loan collateral...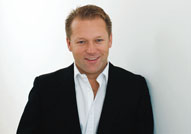 Ross has been forced to resign as deputy chairman of Carphone after it emerged that he'd used his 20% stake to guarantee hundreds of millions of pounds in personal loans. Although this isn't actually illegal, Ross had failed to inform his shareholders about it, as he's required to do under stock market rules. And there's a pretty good reason for this: if any of these loans fall into default – which apparently isn't the case at the moment – Ross will be forced to sell some or all of his shares to raise cash. And that's unlikely to do the stock price much good...
According to a statement from Carphone Warehouse this morning, Ross pledged 136.4m shares as collateral against various personal loans between 2006 and 2008, which would be worth about £120m at present valuations (and since Carphone's share price is down 75% in the last year, they would have been worth a lot more at the time). Ross apparently told them about this yesterday (which must have been an interesting meeting) and tendered his resignation with immediate effect. However, he insists that none of the loans are in default, and that he has 'no current intention' to flog any of his shares. What's more, if and when he does, he's promised 'to facilitate an orderly market' – i.e. not dump them on the cheap.
The problem, of course, is that if he does end up selling the shares at some point – and given his extensive property interests, we can't imagine his portfolio has had a brilliant year – Carphone could find itself with a major new shareholder. It's this uncertainty that's sent the share price down another 5% this morning to a new 12-month low. It's a similar story at storage company Big Yellow Group and travel group National Express, where he's also on the board – both admitted today that Ross has been using his shares in their businesses to guarantee loans, and both have seen their shares dive as a result.