Carphone Warehouse pulls the plug on Best Buy
The troubled electronics retailer is no more, after its backers cut their losses. Bad news, potentially, for its 1,100 workers.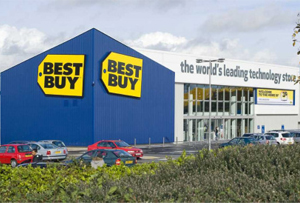 A sad day for Carphone Warehouse, which has finally pulled the plug on Best Buy Europe, the joint venture it launched with US group Best Buy. The electronics chain has been struggling for some time now, having announced full-year losses of £62.2m in June. But given the state of the industry, they've got off lightly.
There are 11 Best Buy warehouses in the UK, all in out-of-town retail parks - and Carphone Warehouse says it's going to close all of them. Obviously, its main priority is its 1,100 employees - although it says it should be able to accommodate the majority of them at Wireless World, its (appallingly-named) new chain of stores specialising in smartphones and tablets. But the real burden will lie in the cost of closing the enormous stores, all of which are between 30,000-40,000 sq ft: Sky has estimated that it 'could top £100m'. Ouch.

It's a bit of an embarrassing one for the two companies, which unveiled their joint venture with much enthusiasm back in 2008. Best Buy insists it will continue to hold its 50% stake in Carphone Warehouse's British operations - although it's planning to buy the mobile phone retailer out of their more successful US collaboration. That should net Carphone Warehouse a cool £1bn, which it will apparently pay out straight to shareholders in the form of a special dividend. After all, it could do with all the loyalty it can get from in that department.

To be fair to the two retailers, it hasn't been an easy few years in the electronics market. Shortly after Best Buy Europe opened its doors, the recession took hold, causing consumers to rein in their spending. Retailers of 'big ticket' items, like TVs, computers and other gadgets, were among the worst sufferers: indeed, Kesa, the owner of troubled retailer Comet, recently announced that it was selling the chain, while in September, Dixons reported a 10% fall in like-for-like sales over the 12 weeks to July. But while its rivals limp on, it looks like for Best Buy, market conditions were too much.