Carphone Warehouse rings up bumper profits
It's been a cracking year for Charles Dunstone's phone and broadband retailer, with profits up 90%.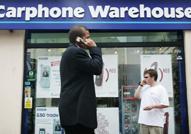 Whatever we're giving up for the recession, it's clearly not our mobile phones. Carphone Warehouse has just increased its earnings forecast for the year, after reporting an 88% jump in pre-tax profits for the six months to September. And it's not just because it's been slashing costs - sales were up 13% to £789m, including a big jump in broadband subscribers. With its new megastores due to open next year - part of a collaboration with US-based Best Buy - it looks like Carphone boss Charles Dunstone (who'll be chatting to MT in a few weeks for our big interview) is having a very good downturn...

Dunstone said the broadband division was going great guns, with customer numbers up 48% year-on-year to over 4.12m. The acquisition of Tiscal's UK arm this summer has clearly helped; it's boosted market share, and Dunstone says it's already contributing to the bottom line. It's still on track to demerge its home phone and broadband business (aka TalkTalk) in March next year - and with profits and cashflow both heading in the right direction, it should look pretty attractive to stock market investors.

And the good news for Dunstone is that the retail arm also delivered better than expected numbers. Best Buy Europe, its 50-50 joint venture with the giant US electronics retailer, seems to be doing pretty well given the general carnage on the high street. Although people have generally been buying fewer mobiles, the market for smartphones - particularly iPhones - has held up well, and Carphone says it's been gaining market share at its rivals' expense.

The next step in the Dunstone masterplan is the so-called Big Box megastores, slated for opening next spring. The name probably gives you a clue as to the format: expect great big US-style stores, flogging all manner of electricals, including phones (and making the likes of Comet and Dixons very nervous in the process).

All in all, there was plenty of good news in here for investors, which has not surprisingly given the Carphone share price a boost this morning. So we thought it was an interesting time to catch up with Dunstone and ask him what he's planning for 2010. Check out MT in the new year to see what he says.

In today's bulletin:
Dubai debt crisis puts the whole world in a spin
Carphone Warehouse rings up bumper profits
Recession woes force Eastern Europeans to flee home
MT Exclusive: Entrepreneurship can solve youth unemployment, says Rod Aldridge
Psychology at Work: How to spot an office liar