Published: 16 Jul 2018
Last Updated: 17 Jul 2018
If you regularly order parcels, like to eat fast food or have the misfortune to find yourself caught up in a chemical weapons attack, there's a high likelihood that the person you deal with is suited in an outfit produced by Carrington Textiles.
---
CARRINGTON IN BRIEF
Founded: 1891 (as Pincroft)
HQ: Adlington, Lancashire
Employees: 265
Turnover: £84 million (2017)
---
The Lancashire manufacturer has grown to become one of Europe's leading producers of work wear and protective suits and counts the NHS, UPS, McDonald's and several militaries - including the production of protective CBRN suits for the UK - among a roster of clients that span several industries and 82 nations worldwide.
But it's not always been such a global brand.Textile production at the company's UK base in Adlington can be traced back to the 1760s, but it wasn't until the mid-90s that the company came about in its current format when Pincroft Dyeing & Printing Co merged with Carrington in 1998.
At the time, the UK accounted for over 80% of Carrington's sales, by 2006 roughly half of Carrington's turnover was driven by export. Today, following a decade of accelerated expansion, 80% of Carrington's work wears are now sold to clients outside the UK.
There can be no doubt that the UK textiles industry has fallen a long way from the one that fed the fires of the industrial revolution. Unable to compete with the mass produced and cheaply made fabrics that have emerged from the far-east, it has slowly declined.
However, Carrington's niche focus has enabled it to buck the trend. Protective work wear is crucial to the safety and comfort of the wearers, and its end use depends of durability and quality rather than cost, which means Carrington has been able to out-innovate, rather than outproduce the competition.
But it's still had to grow its global footprint - here's how.
Tracking Carrington's international sales
International Growth
Despite being 'the poor relation' of its major European competitor - Italian giant Klopman - Carrington has gained a broader international reach due to its willingness to experiment in riskier, less developed international markets, explains Carrington's MD John Vareldzis.
The company has had to employ an 'open-minded'' strategy when expanding abroad, one that has been based on targeting new markets as medium to long-term opportunities, rather than short-term money makers.
Vareldzis admits that the company has taken 'a bit of a punt' at times, contacting local suppliers, agreeing extended payment terms in the belief that markets could be created.
The specifications and test standards that govern protective wear can differ widely between different countries, so the company has had to regularly adapt its range when entering new markets, sometimes spending up to two years (or longer) running tests prior to rolling out a new range.
It's been a case of taking the rough with the smooth. Developing markets can be heavily affected by political climate. For example, Carrington had a healthy market in Russia until the rise in political tensions and sanctions following the 2014 annexation of the Crimea. The 2015 Brexit referendum has also forced Carrington to change its strategy towards its large EU export market.
The company has been able to remain resilient because it has been prepared to reassess and rebalance its growth in response to market conditions.
In 2017 the company established a manufacturing base in the Russian city of Tula and entered into a joint-venture with the textile company TMG to start manufacturing in the Portugese city of Guimarães - neither move was originally in the company's growth plan.
Effort has also been made to improve the local presence of the company within its Asian markets, with the opening of an office in Hong Kong and a warehouse in Shenzhen.
But Carrington's focus hasn't just been international. The company has invested heavily in its operations at Adlington in order to improve flexibility, productivity and enable the continual innovation of what can be a constantly changing - and easily copied - product.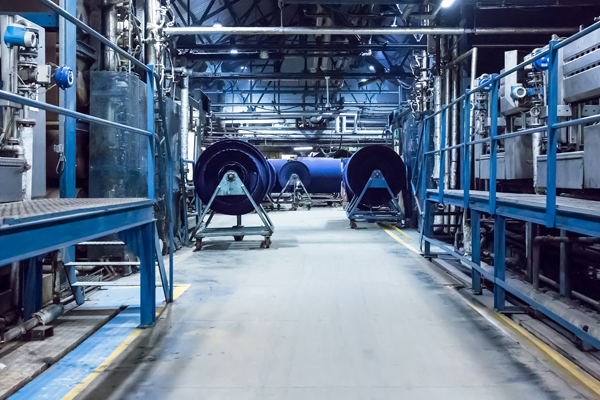 Carrington's Adlington HQ
Facing the future
Continual changes in legislation in the requirements of protective wear and finding the right skills are the some of the challenges facing Carrington, but uncertainty surrounding Brexit represents the biggest hurdle - the EU still accounts for half of company's export sales.
Vareldzis is hoping that the Portuguese venture will mitigate against any potential outcome by ensuring the company can continue to supply into Europe without the effects of any changes in export rules. The business also has plans to re-enter the lucrative North American market.
Regardless, the strength of its product means it is unlikely to be short on custom. Brexit is providing uncertainty, but if UK businesses can continue to fill a niche, and fill it well, then global opportunities are certainly there to be taken.
---
Image credit: courtesy of Carrington Textiles Ltd