Cause and effect - what if you can't find the cause?
Fortunately, vicious circles can still be broken.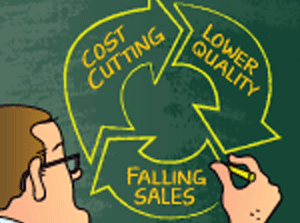 We think a lot about cause and effect; it's a basic principle of business life. We agree that proper problem-solving starts with identifying the root cause. But what if you can't identify cause or effect? What if there is no root cause?
This alarming situation is surprisingly common. Let's start with a famous historic example: the Cold War arms race. The US invested huge amounts in the development of new nuclear weapons. Why? 'Because the USSR is increasing its arsenal and we need to maintain our position relative to it.' But the Russians used the same logic to justify their own correspondingly large arms expenditure.
Both these explanations make perfect sense on their own, but combined they create a horrific situation. It's a vicious circle: you can't identify which is 'cause' and which is 'effect'. The obvious solutions will simply make matters worse.