Causing a public nuisance
Apparently civil servants are more likely than anyone else to beat up their work colleagues...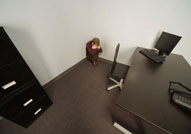 Public sector workers are much more likely to get caught up in workplace conflict than their private sector counterparts, according to a new study by business psychologists OPP and the CIPD. Over one-third of them are apparently embroiled in office warfare on a regular basis, compared to about a fifth of private sector types. And if stress levels are high already, they're likely to get even worse now the government has started buying up banks and cutting civil service jobs…
To be fair, it's not only public sector workers who are getting stroppy with each other. Across the UK, every employee apparently spends an average of two hours a week dealing with some kind of workplace conflict (we hope this is making your office seem harmonious by comparison). That's 370m working days between us – based on the spurious financial equivalence that press releases are obliged to employ at this juncture, that means these conflicts are costing UK plc more than £24bn a year. And that presumably doesn't include the time lost to absenteeism, or the cost of replacing someone who gets fired.
There were various explanations proffered for these warring workers. About half of those surveyed said personality clashes or rampant egos were to blame, while 34% ascribed it to stress, and 33% suggested it was down to the heavy workload (not the civil servants, presumably). But more than anything, employees felt workplace conflict was largely a result of bad management. According to the survey, almost half of respondents think their managers need to act faster to nip potential arguments in the bud. And they seem to agree: 23% admit they don't manage conflict well (this proportion is even higher in the public sector).