CBI boss calls for cash injection to create 'industrial Olympics'
The Confederation of British Industry has called for George Osborne to put up £1.5bn to boost growth in UK businesses.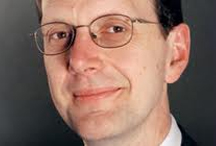 The CBI's director general, John Cridland, today called on the government to create an 'industrial Olympics' by funding £1.5bn worth of recession-busting measures to get business moving. He said that the government is in line for a windfall in the billions of pounds next year thanks to the sale of the '4G' mobile bandwidth to phone operators, and should spend some of it on the business community. He also claimed that it under spent by around £7.8bn last year – all the more reason to get the chequebook out, apparently.
Cridland also outlined around £700m of tax cuts and £800m worth of spending ideas that could help bolster private business, and suggested that it would be a mistake to increase the intensity of budget cuts any further. He said: 'Conviction comes from sticking to what you said you would do. I would not do any more austerity to achieve an arbitrary target even if it means only missing it by a few months.' With Moody's threatening a 'review' into the UK's AAA credit rating early next year, however, we doubt Osborne is going to play games with his budget plans.
So what exactly does Cridland mean by 'an industrial Olympics'? He pointed specifically to road and rail improvements to be made up and down the country, saying that hundreds of millions of pounds should be spent on repair and maintenance, creating construction jobs and improving the traffic flow for the nation's workforce. In addition, he wants a cap on business rates, mainly so that retailers can tackle the recession blues that have plagued the high street for some years now.