CBI calls the end of recession, but Osborne warns on debt
The CBI says the recession is over, but George Osborne says we may drown in our own debts...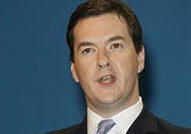 Showing a suitably festive spirit, employer's organisation the CBI is spreading a bit of Christmas cheer by predicting that the recession in the UK will have ended by the end of the year. Only 10 days to go till the longest downturn in UK economic history is over, then – whoopee.
And yet at the same time, shadow chancellor George Osborne has cautioned that the UK's burgeoning national debt threatens to crush any prospect of recovery unless we start seriously paying it off. Something which he reckons Alastair Darling's PBR of a couple of weeks ago totally failed to address. Anyone would think there was an election in the offing.