CBI conference: HSBC's Stephen Green talks trust and confidence
When it comes to the recession, ethics and morality dominate discussions at the CBI.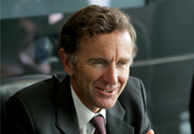 Contrition might be in short supply, but when discussing the causes of recession, questions of trust and morality are never far away. And this morning, HSBC's group chairman Stephen Green bared his soul to the audience at the CBI's annual conference.
Green tackled the big questions of the end of capitalism and the free market economy, by referring to Churchill's aphorism on democracy: 'capitalism and free markets are the worst system, except for all the others that have been tried'. Free markets are in the dock, he argued, because confidence has been destroyed.
'The market system, the capitalist system, is at its heart about trust, and nowhere is this more true than in banking,' said Green. 'If we are to restore trust and confidence in the financial markets we must address what is at its root a moral question. Trust and confidence cannot be restored by fiat. Actually, the process of renewal has to begin with a recognition of the moral dimension to what has happened.