CBI: Why the recession will change business for good
The trade body predicts less gearing, closer supplier ties, better sustainability, more flexible workforces...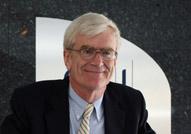 The recession will be the 'catalyst for a decade of business change' in UK plc, according to the CBI's Richard Lambert. Kicking off the trade body's annual conference today, its D-G has been explaining how he thinks recent events will 'reshape business behaviour well into the next decade', because companies have been shown the error of their ways. There's been a lot of talk lately about how businesses - particularly in the City - have been going back to business as usual. So we hope Lambert's right that some important lessons have been learned...

The CBI boss has identified four main areas where he thinks attitudes have changed - of which financing is perhaps the most significant. Now the flow of cheap debt has dried up - in fact, around two-thirds of respondents to the CBI's latest survey reckon there'll be no improvement in credit terms in 2010 - many are changing their attitude to financing. The majority now say they want to de-risk by having less debt in the business, and making more use of things like equity finance and bonds instead. 'What we now need is a more balanced, less risky pathway to growth,' opines Lambert. This should include more local financing options, he suggested, rather than companies relying entirely on the big players, or even the creation of a modern day Industrial and Commercial Finance Corporation (the original incarnation of 3i).

And there's more. The CBI also suggested that companies will be working harder to build closer relationships with their suppliers, so they won't be so worried about individual failures scuppering their supply chain. It thinks firms will pay more attention to corporate citizenship, because it's a good way of appealing to staff and customers. And it suggests that firms will end up employing more and more people on a flexible basis - so most will probably end up with a smaller core of full-time staff and a larger 'flexiforce'.
We're not so sure about this last point - at least insofar as this is surely more of a technological and cultural development, as opposed to being the result of the 'spirit of collaboration' fostered by the recession. But like all Lambert's other predictions, it sounds like a change for the better. And that's surely the point: the businesses that not only manage to survive the recession, but can also learn from it and adapt their approach, are the ones that are likely to thrive in the coming years.

In today's bulletin:
Microsoft to form anti-Google alliance with News Corp?
Cadbury hotting up as bidding war finally looms
CBI: Why the recession will change business for good
Psychology at Work: How to Cope with Bullying Bosses
MT Expert's Ten Top Tips: Generate leads in a recession