CEBR director Oliver Hogan: The British economy is definitely showing signs of improvement
Oliver Hogan, director at the Centre For Economics and Business Research, says the UK economy is improving but businesses are struggling to compete with China.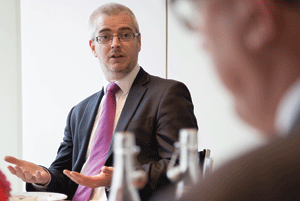 Businesses that see cost management as more than simply making savings are the ones that will be in pole position to take advantage of economic recovery, a recent survey by MT and Auditel concluded.
In a recent dicsussion with the bosses of some of Britain's major companies, Oliver Hogan, a director at independent research firm CEBR, said that British firms are finding it difficult to compete with eastern economies when it comes to costs.
'All the short term data is pointing to a significant injection of confidence into the British economy, both on the business and the consumer side. But UK companies are still facing challenges when it comes to competing with the eastern economies. They are still operating with labour costs that are still 20-50% lower than what we pay in the UK.'