Celebrity approval boosts Morrisons
UK retailers may still be licking their wounds after England's disastrous failure to qualify for Euro 2008, but it's not all doom and gloom: supermarket chain Morrison's has continued its revival by posting a big increase in sales last quarter. Clearly we're all willing to buy After Eight mints if Alan Hansen tells us to.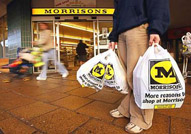 The BBC football pundit has been fronting Morrison's expensive new advertising campaign, alongside Lulu and Denise Van Outen, while the chain has also been busy cutting 7,500 prices and refurbishing stores. The combined effect was to boost like-for-like sales by 3.7% last quarter, while total sales were up 4.6%.
Investors certainly seemed to welcome further signs that chief executive Marc Bolland's turnaround programme is starting to pay off – the supermarket's share price jumped nearly 8% on Thursday, as analysts upgraded their profit forecasts.
The chain's boss said yesterday that he was 'delighted with the progress that has been made… although we are still at a very early stage'. But he won't be dancing in the supermarket aisles just yet. 'We expect the market to remain competitive and we remain cautious on the outlook for consumer spending', he cautioned.