Central banks ride to the rescue
The world's central bankers have teamed up to try and bail out the money markets, promising to inject some extra funds into the system. Better late than never, some might say.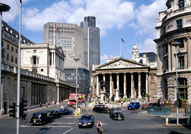 The Bank of England said on Wednesday that it was joining forces with the ECB, the US Federal Reserve, the Bank of Canada and Swiss National Bank to take measures 'designed to address elevated pressures in short-term funding markets'. In other words, it's a co-ordinated attempt to get the credit markets moving again, and to stop banks sitting on their cash piles ahead of their year-end.
Certainly the banks haven't been any more willing to lend to each other following last week's interest rate cut. And the situation in the US is no better – traders were pinning their hopes on a big Fed rate cut on Tuesday, so share prices plunged yesterday when it came in below expectations.
Some people are even suggesting that the central banks' tie-up was a response to this, but of course they're denying this – and frankly, given the speed with which these public institutions usually work at the best of times, we're inclined to believe them.