Cereal offenders cost the UK £22bn
That's supposedly the loss to the British economy if we don't eat a hearty breakfast every morning...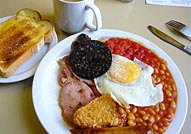 We're so slow to wake up after missing breakfast that we end up losing 923m hours of productivity over the course of a year – equivalent to a financial cost of more than £20bn. That's the improbable conclusion of a new report by Express by Holiday Inn, which is based on a study of the link between breakfast and productivity, and a survey of British working habits. Around 45% of Brits say they don't have a proper meal in the morning, with one in eight admitting that they never eat breakfast at all during the working week – despite the fact that 73% of us feel more alert if we polish off a few Weetabix before getting on the bus.
Without our morning fuel, nearly half of the survey respondents said they lacked energy, 36% admitted to feeling tired, and one in four suffered from a lack of concentration. Nearly half of all female respondents even admitted to feeling light-headed – and not in a good way. 'A good healthy breakfast sets you up for the rest of the day, which is why many nutritionists really do consider it to be the most important daily meal,' says Fiona Hunter, who should know because she is one (a nutritionist, not a healthy breakfast).
So why are we so slack about the first – and possibly most important – meal of the day? Well, not surprisingly, most respondents suggested time was the critical factor: 33% said that if they could free up an extra 15 minutes in the morning, they'd definitely spend it having breakfast (which doesn't seem an insurmountable problem – just set your alarm earlier). And they probably don't even need that long: almost half of regular breakfasters spend less than five minutes guzzling down their corn flakes, while a sizeable number eat their toast and marmalade on the way to work.