Cessation of Iraq hostilities hits BAE Systems
Peace is bad for business at BAE. The defence giant today reported a nosedive in annual revenues following cuts in the UK and America.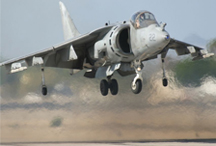 The end of the Iraq war, Obama's US defence cuts and slashed UK military spending have caused a spot of turbulence for BAE, manufacturer of everything from rifle bullets to the Typhoon jet fighter. Turnover has lost altitude: £19.2bn in sales for 2011, down 14% on the previous year. And profits have plunged by 7% to an EBITDA of £2bn.

The 'age of austerity' has been troublesome for the London-headquartered firm. It generates 47% of its revenues from the US and 29% from Britain. The former has just capped its defence budgets while the UK has sliced 8% off its miltary spending over the next four years. Competition for remaining defence contracts is fierce: just this month, BAE lost out to French rival Dassault on a $11bn (£7bn) contract to make an Indian government fighter jet.

Chief executive Ian King says: 'BAE Systems is operating in a difficult business environment as defence spending reduces in its largest markets, the US and UK. Whilst little sales growth can be expected for the group in 2012 in the current market conditions, modest growth in underlying earnings per share is anticipated.'

BAE does have a few other lucrative contracts pending, however: an order for 72 Eurofighter Typhoon jets by Saudi Arabia is still in the pipeline, albeit delayed. And BAE's R&D tax settlement for 2011 is due to land any minute.

Like many other major defence players, BAE is trying to get into new markets - particularly the fragmented and rapidly growing pirvate security business. But in the meantime, its fortunes are tied to western government budgets, so it's in for a pretty thin time...