CFO of tomorrow is no monkey
The slowdown may demand a new breed of CFO, whose leadership is as sharp as their mental arithmetic...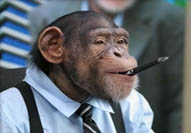 Of course, we all know that in a downturn the finance department is in the ascendant. Cost control and cashflow become the new corporate watchwords, and no-one knows these things better than the CFO and all his – or her - accounting minions. Even the glamour boys and girls in sales and marketing have to kowtow to the finance people these days.
However, although razor-sharp numeracy and a way with a spreadsheet are necessary skills for any CFO, leadership is a less obvious talent for the custodians of the corporate coffers to possess. But according to headhunter KornFerry International, it has never been more important if CFOs are to make themselves heard at the boardroom table, to have their say over corporate strategy and even to act as a kind of ethical arbiter for corporate decision making. Blimey - and you thought the CFO just had to make the books balance at year-end.
The research paper, exotically titled 'The CFO – A Moral Rudder in a Perfect Storm' suggests that the most progressive firms – and the most able and ambitious CFOs - will realise that their finance heads have a vital role to play in the sober analysis and re-organisation that is now the order of the day, after the past decade of (what looks increasingly like) irrational exuberance. The party is over, and the mess must be cleared up and the cost counted – we think that's the kind of thing they're driving at. And it's certainly true that in a slowdown, more CFOs make CEOs than they do when times are good.