Chairmen and non-execs could face annual re-election
The introduction of annual job votes sounds admirable - but will it just be an unwelcome distraction?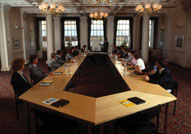 Non-execs have certainly been under the cosh in the last 12 months. If the Walker Review on governance wasn't enough to chew on, now the Financial Reporting Council has weighed in with its own ideas - and it wants to go even further. It's recommending that shareholders should vote on the appointment of company chairmen, or perhaps even the whole board, every year. We're all for greater accountability, particularly in light of recent events. But won't this just mean more process and more red tape - precisely what companies don't need at the moment?

At present, board members are supposed to face re-election at least once every three years, but that's all set to change if the FRC gets its way. It's proposing that all board members come under greater scrutiny, with the leadership skills of the chairman and the roles, skills and time commitments of the NEDs regularly up for review. FRC boss Sir Christopher Hogg also reckons that boards should face more external scrutiny, with outside evaluations at least every three years and the chairman encouraged to hold regular 'development meetings' (whatever they may be) with each director.

It's clearly open season on non-execs. Last week Sir David Walker's review of bank boards argued that they need to do a much better job of keeping the upper echelons of management in line; he also wants them to play a far greater role in scrutinising bankers' pay packets and juicy bonus deals (even publishing details of those earning over £1m). There's a perception that NEDs didn't do enough to prevent the behaviours that contributed to the financial crisis, and now they're being forced to raise their game.

We wouldn't be surprised if this idea takes off. But while greater accountability is generally a good thing, we're not entirely convinced about annual elections. For a start, it gives directors an extra thing to worry about; they'll have to spend time getting themselves re-elected rather than worrying about the company. And it'd be presumably be much harder for them to make decisions in the interests of long-term shareholder value when they know they'll be judged on a one-year time horizon. Then there's the time and money companies will have to expend on organising the process - two commodities that are in very short supply at the moment.

In today's bulletin:
Is Britain set for its own Dubai-style debt debacle?
Greene King and Wetherspoon bring cheer to battered pub sector
Chairmen and non-execs could face annual re-election
Get serious about CSR, say Gen Y-ers
The Parent Project: Why should we care about parental rights?