Chancellor looks for answers
All eyes will be on Downing Street this afternoon, where Chancellor of the Exchequer Alastair Darling is preparing to deliver his first Pre-Budget Report.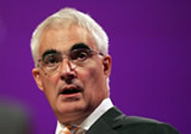 Darling finds himself facing intense scrutiny even before he's waved the red briefcase in anger. After Gordon Brown's apparent U-turn over an autumn election, the Chancellor is under pressure not only to step out of the shadow of his illustrious predecessor, but also to revive his party's flagging credibility.
But with so little material to work with, that will be easier said than done. Darling is likely to downgrade growth expectations for next year, as the economy continues to feel the squeeze from the US sub-prime turmoil, but will still need to scrape together enough pennies to fund spending increases on the Prime Minister's pet projects.

So where is he going to get the money from? First in the firing line are likely to be the private equity bosses who have become this year's favourite political punch-bag. Despite the Chancellor previously ruling out 'knee-jerk' reactions to the recent controversy, he seems almost certain to bow to growing pressure to hit them in the pocket – possibly by changing the rules on taper relief, which currently allow practitioners to pay virtually no tax on their capital gains.
Darling is also expected to reveal changes to the rules on inheritance tax (another move apparently designed for its popular appeal rather than its likely effect on the tax take).