All change for CEOs?
The role of the UK's top CEOs may have changed substantially over the last decade – but unfortunately there's not been much change to the profile of the people filling these roles, according to Orange's latest Business Leadership Snapshot.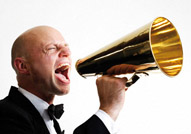 Orange looked at the profile of FTSE 50 CEOs and spoke to the head-hunters involved in recruiting them, to see how the typical profile has changed in the last ten years. It found that the demands of a global digital market have altered the skill-set required – but the job is still mostly the preserve of white middle-aged men. Remarkably, there's only one female CEO in the entire FTSE 50 (Cynthia Carroll at Anglo American).

Perhaps the biggest change the research found was the need to demonstrate performance to external stakeholders – particularly now the internet has created an even greater thirst for information. So people skills are important. Trying to win in a global market also brings extra pressures, putting a premium on international experience. The boss also has to be prepared to pitch in, as well as set strategy (the days of ruling with an iron fist are no more). And of course, CSR now has to be top of the agenda for any self-respecting CEO.
You'd think that with all these changes – which arguably give greater precedence to 'soft skills' – it might have radically altered the typical profile. But apparently not. 'The majority of candidates who throw their hat into the ring for such roles are still sort of middle to older age white males,' said one head-hunter.
There are plenty of talented women entering these companies at graduate level. So why aren't they progressing to the top job? Is it that they're not willing to sacrifice their family lives to their careers in the way that men are? Or that companies make it more difficult for them to do so? Or is that they're unwilling to clamber up the greasy corporate pole, preferring to run their own businesses where they can set the agenda?