A change of leadership won't be enough to save FIFA
Its problems run much deeper than Sepp Blatter.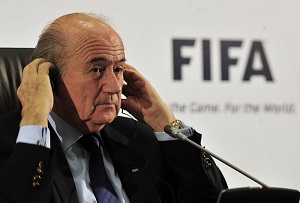 Finally somebody at FIFA has had the gumption to stand up to Sepp Blatter. The football kingpin has been in the process of stepping down for months now, but after Swiss prosecutors officially opened up a criminal investigation against him last month, sponsors including Coca-Cola and McDonald's began to get uppity and so it was only a matter of time before he was shown the red card.
This morning FIFA's ethics committee (who knew there was such a thing?) handed Blatter a 90-day suspension. That could be extended by a further 45 days, meaning he could be away from the helm until just a few days before the election to name his replacement in February. Put simply, his time at the top of FIFA looks likely to be all but over. But does cutting off the head always kill the snake? Finding a reputable replacement won't be easy given that dozens of FIFA officials have been implicated in corruption of one form or another.
It was expected that Blatter would be replaced by UEFA boss Michel Platini, but the Frenchman has also been suspended today, surely putting paid to any chance he had of winning the election (though given FIFA's recent shenanigans MT wouldn't count him out just yet). With Platini out of the picture the job could fall to Prince Ali bin al-Hussein, who opposed Blatter in May's presidential election.