Changes a-brewing
They like to do things differently at Adnams. That much is plain as soon as you disembark at the firm's picturesque Southwold base, where the mellow yellow brick of the famous brewery contrasts with the white-painted wood of the town's landlocked lighthouse, and the slow, grey rollers of the North Sea break on the shore of the bay only a hundred or so yards away.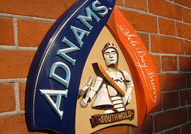 In marked contrast to the modern corporate norm, there is no shiny office block, no towering atrium, no marble counter and, best of all, no surly security staff. Just a modest reception area and a ready smile and cheery hello for the visitor. It's refreshingly straightforward and makes a wonderful first impression. This, one immediately feels, is a place where people rather than processes predominate.
Chairman Jonathan Adnams is just as far from the corporate archetype. Clad in jeans and puffa waistcoat, he's dressed for the outdoors, not the boardroom; lean and weather-beaten, he looks every inch the keen sailor that he is. Until fairly recently he was a member of the local lifeboat crew, and when the maroon went up, he had to answer the call. Unpredictable departures from even the most important meetings were therefore not unknown; rumour has it that visitors abandoned in this way occasionally felt a little nonplussed.
Back on dry land, his other passion is brewing. His family has been producing some of the country's finest traditional cask (or 'real') ales in Southwold since 1872, but he is clearly not one to rest on historical laurels. The firm's brand-new £4m brewhouse is his pride and joy, the culmination of a five-year renewal programme, replacing equipment dating from the 1970s and earlier with the absolute latest in computerised beer gear. 'It's good to have roots, but value comes from what you are going to do in future rather than from what your ancestors did in the past' he says.