Channel 4 eyes BBC Worldwide merger
The authorities could merge the struggling Channel 4 with the BBC's profitable commercial arm...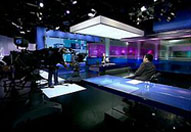 Reports suggest the government is considering a merger plan that would see the two publicly-owned businesses combined into a company called '4 Worldwide', to be run by Channel 4 with the BBC as a minority shareholder. With Channel 4 desperately in need of more cash if it wants to continue its 'public service' remit (i.e. the news and current affairs stuff, as opposed to endless reality shows and the like), the Government needs to find some way of bailing it out – and clearly sees this as a more palatable method than bumping up the licence fee to cover the cost...
The two companies are actually a similar size, at least in terms of turnover. Last year BBC Worldwide, which publishes the lucrative BBC magazines and DVDs and sells the rights to popular BBC shows overseas, had revenues of £916m, while Channel 4 made £945m, largely through advertising and sponsorship. However, their margins are very different: BBC Worldwide churned out profits of £112.5m last year, while Channel 4 managed a paltry £1.6m. Since Ofcom reckons the latter needs £50m-£100m a year to stay afloat (Channel 4 reckons the figure is more like £150m), this situation is clearly not sustainable.
This merger would be all well and good for Channel 4. But not surprisingly, the BBC is apparently very unhappy about it; in fact, we suspect it's hopping mad that the jewel in its crown might be spirited away to prop up another channel (and a failing channel at that). And for viewers, it doesn't even dispel the prospect of the licence fee increasing – it's largely thanks to the efforts of BBC Worldwide that the licence fee has remained at its current level, so once shorn of its profit contribution, the BBC itself might have to find more money from somewhere.