The charade of meritocracy
The legitimacy of the Singaporean government is based on the notion that individuals who join its elite are selected in a fair education system that rewards talent and hard work equally among the Chinese majority and the Malay and Indian minorities.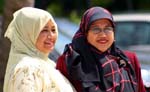 But the system currently works in favour of the Chinese. Since 1981 only 3.8% of President's Scholars (the state's most prestigious scholarship) were from a non-Chinese background. Since independence in 1965, only one Malay individual has been awarded the President's Scholarship.
The problem goes back to early education, which is designed to create a Mandarin and English-speaking elite. This trend was strengthened by the introduction of an annual 'Speak Mandarin Campaign' in 1979 and the protection of elite schools known as Special Assistance Plans (SAP) schools, which are supposed to have a Chinese ambience.
Students in these schools are given exclusive pre-school programmes and special consideration for pre-university scholarships. Most non-Chinese individuals, however, have a reasonable chance of reaching high positions in the administration just below the top strata. They are, therefore, not inclined to protest.
The real problem is that the Singaporean claim to meritocracy is being eroded by the reality, a trend that may eventually make non-Chinese citizens less inclined to accept the more unpopular aspects of the regime.
Source:
The charade of meritocracy
Michael D Barr
Far Eastern Economic Review, Vol 169 No 8, October 2006