Charities: cancer good, religion bad
That seems to be the message of a new charity brand index, with Macmillan Cancer Support in top spot.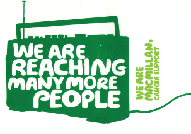 Here at MT we've been casting a beady eye over a new Charity Brand Index compiled by our sister mags Third Sector and PR Week; based on a study by market research agency Harris Interactive, it's supposedly a measure of how the top 100 UK charities are perceived by the general public. With Macmillan and Cancer Research UK taking the two spots, it appears that cancer charities have the best reputation - while bringing up the rear we have the Church of the Latter Day Saints, i.e. the Mormons, and the Watch Tower Society, i.e. Jehovah's Witness. When it comes to philanthropy, it looks as though - to paraphrase Alistair Campbell - Britain doesn't do God in the way it once did...

So what's so great about Macmillan? Well, according to Harris, the key things were a high familiarity score (i.e. everyone had heard of it) and 'an extremely positive image of the brand' (i.e. nobody had a bad word to say about it). Since most people in the country have been affected by cancer in some way, it's an issue that feels both relevant and personally threatening to people, so it's about as uncontroversial as causes get – unlike the religious ones at the bottom of the index. This helped it come in ahead of high profile causes like the NSPCC, Children in Need, or Comic Relief (all of which we thought would be listed above it).

It's also interesting that Macmillan came ahead of Cancer Research, despite being much smaller in fundraising terms (it gets less than a third as much money in donations) - a reflection of the fact that brand is now as important to charities as it is to businesses. In an age when so many causes are clamouring for our attention, it's not enough to be well known; you need to be trusted and respected too. That's apparently not true of the two religious charities – or, if we are to believe this survey, well-known arts charities like the Tate and the English National Opera, which were both in the bottom ten (are we all becoming philistines? or do donors just not see these as 'proper' charities?).

The good news for the third sector is that the recession hasn't hammered charitable giving as much as expected – either at corporate level, as we revealed in August, or it seems, with individual donors. According to a report out today from Coutts, there were 189 £1m+ donations in 2007/8 (though admittedly that covers the period before the worst of the crisis). But as in the corporate world, people are changing the way they give: there's more emphasis on funding specific projects, because people want to see the fruits of their philanthropy within their lifetime. Since it's much easier for charities to get money with no strings attached, that will present a whole new set of challenges for the likes of Macmillan. Still, at least its ad agency will be pleased about this latest accolade...

In today's bulletin:
Barclays and HSBC cash in thanks to international muscle
Imperial's Alison Cooper joins ranks of female FTSE bosses
Editor's blog: Keep Cadbury British
Shoplifting soars as we feel the downturn pinch
Charities: cancer good, religion bad