Charlie Mullins: 'The Chancellor's finally thinking like a businessman'
Charlie Mullins, founder of Pimlico Plumbers, gives his verdict on the Autumn Statement: Christmas has come early for business with the fuel duty freeze, he says, and civil servants have his deepest sympathy...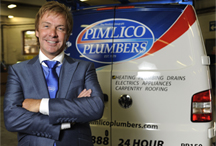 This Autumn Statement has been very positive for businesses. The fact that Osborne is cancelling the 3p fuel rise is an absolute godsend. We spend over £1m a year on fuel at Pimlico Plumbers so you can imagine what another 3p on every litre would do to our overheads.
Corporation tax has also been cut by 1%. That's going to draw more investors into this country. When they put the 50p tax rate in, they lost I don't know how many billions. It's good to see Osborne thinking like a business man.
That said, I think it's fair to say that George has really had to rob Peter to pay Paul on all this. There have been a lot of cuts on the civil servants' side of things. The public sector is overloaded with people; there are two people doing a single person's job. It's grown massively over the years while our economy hasn't, but I do feel sorry for the workers that will lose their jobs.