Charm offensive fails to push Ryanair profits
The budget airline has announced it expects end-of-year profits to fall for the first time in five years.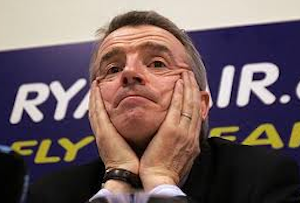 Ryanair managed to maintain an upward trajectory throughout the recession years, continuing to grow as cash strapped flyers turned to it for its bargain basement fares but it looks like its fortunes have started to change – it has announced it expects its annual profits to fall for the first time in five years.

The no-frills airline has said it expects to make a profit of between €500m (£423m) and €520m for the year ending in March – this is down from is prediction of €570m back in September and a drop compared to last years' figure of €569m. The airline has blamed increased competition and falling fare prices, saying it expects fares to drop a further 10% over the winter months.

'The continuing fare and yield softness means that full year profits will be lower than previously guided,' outspoken chief exec Michael O'Leary said in uncharacteristic management-speak mode. An 11.76% drop in share price swiftly followed.

This follows the airline's first ever profit warning earlier this year, which triggered a campaign to improve customer service and in Michael O'Leary's words, 'stop unnecessarily pissing people off.'

The outspoken chief took to Twitter in a bid to win his critics over, with two sessions of #AskMOL – both resulted in hilarity and (for those with a healthy sense of humour) went down pretty well. The airline also announced some changes to its most infuriating rules – it will allow a second small piece of hand baggage, the fine for not printing a boarding pass has dropped, as has the hold baggage fee. Most recently, it announced it will start allocated seating to avoid the now-familiar Ryanair seating scramble. But this attitude haul-over looks to be too late to make a difference to this year's numbers.

'These things aren't instant' said Howard Millar, the airline's finance chief. He forecast it could take 12-18 months for the changes to have an impact.

The harp-winged airline said it carried 49 million passengers during the six months to the end of September and generated revenues of €3.36bn (up 5% on last year) but weak key markets, increased competition mean it expects this growth to slow down.

Ryanair's competitors Aer Lingus and Norwegian have also cautioned higher competition is pushing down fares. All eyes will be on easyJet when it announces its forecasts – it lifted its pretax profits for the year ending 30 September but hasn't made any prediction for the October – March period yet, when Ryanair foresees potential problems for itself. It could well be a hard winter for all.