Chartered Management Institute: In My Opinion
Sue Street, a strategic adviser to Deloitte and a CMI Companion, argues that, 40 years on from the Made in Dagenham strike, women need to be aiming higher.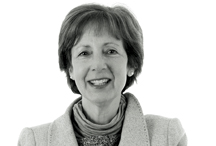 Film premieres are traditionally glamorous affairs, so it was surprising to see the prosaically titled Made in Dagenham at Toronto's International Film Festival in September. The film, set in 1968, follows the story of the female machinists who worked at the Dagenham Ford car plant, stitching Cortina seats. Discovering they were paid 15% less than similarly skilled men, they went on strike. Three weeks later, they accepted a new deal that took their pay to 92% of that of their male colleagues. Although they didn't realise it, those women helped to blaze a trail for the passage of the Equal Pay Act 1970.
I would like to report that 40 years later things are much improved. But have attitudes changed? The Hurt Locker director Kathryn Bigelow, for instance, filled more column inches this year for being the first woman to win the Oscar for best director - and for beating her ex-husband to the prize - than for the film itself.
I am reminded of a very senior female government official who ran a former prime minister's policy unit. Her mother once rang her at Number 10 when she was fiendishly busy with the words: 'I'm sorry to trouble you, darling, but your brother is at work.'