Cheap fashion corners the Primark-et on Oxford Street
Shoppers just can't get enough of Primark's cheapo threads. There are now stores at both ends of Oxford Street pulling in sales of £5m a week between them.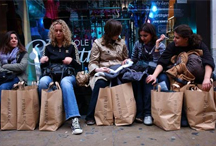 Once upon a time, the rules of business engagement dictated that a brand should have only one store per high street to avoid cannibalising its own custom. But that was before Starbucks proved that pumping out the aroma of percolating coffee beans on every corner actually increased passing trade's desire for a latte, and LK Bennett (four stores on Chelsea's King's Road no less) learned that window shopping could lead to a purchase up the road.
Now Primark has take the plunge into multi-site, solo street retailing. And the experiment is going rather well. Despite the discount fashion chain opening a new outlet by Tottenham Court Road Tube in September, like-for-like sales are still on the up at its store by Marble Arch, just a 15-minute walk away.
The new site takes Primark's square footage on the street to 152,000 across the two stores. And the Tottenham Court Road branch has a capacity for almost 2,500 shoppers across four storeys - that's enough to drive terror into the heart of any unwilling Christmas shopper. Average weekly sales at the two stores has hit £5m and Primark has been hailed as the savious of Oxford Street by retail experts, as the area has been plagued by empty shops and endless 'closing down sales'.