Check out Lady Geek, our great new technology blog
Belinda Parmar writes for MT about technology brands, and their attempts to appeal to women.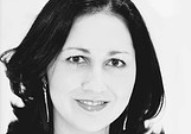 For MT's brand new blog site, we wanted a fresh angle on the business of technology; one that covered not only the companies involved, but also the way they promote and market their brands. So we're thrilled to have signed up Belinda Parmar. A planning director at a leading advertising agency, Belinda set up a blog called Lady Geek to write about the often ambivalent relationship between women and technology – and now she's going to be sharing her thoughts with MT readers too.

So what's it all about? Well, technology has traditionally been rather a male preserve – products for men, marketed by men to other men. So it's no wonder that some women fail to see the appeal, or that many big tech brands don't seem to have much idea how to attract them. Lady Geek wants to change all that – and she's not afraid to tell tech companies where they're currently going wrong.

In her latest post, Lady Geek takes a look at the growing trend of rebranding tech products as fashion accessories. Apparently, lots of companies reckon that the only way to give their brands feminine appeal is to reposition them as fashion must-haves, or as part of an overall look. So do fashion and technology make for a winning combination?

Well, big fashion names do have a lot of pulling power in an area where many women tend to lack brand loyalty (the success of LG Prada being one notable example). But it's not as simple as saying that a product will go well with an outfit and then watching sales go through the roof. Fashion does pretty well marketing itself to women, but Belinda points out that the way people relate to technology is very different from the way they relate to fashion: 'Fashion is about 'me', technology is about 'we''…

Entertaining and informative, Lady Geek is a must-read, whether you're coming from a tech or marketing angle, or just looking for a great new blog. Read what Belinda has to say here.

In today's bulletin:
Tesco hovers as EU approves Northern Rock break-up
Big Gatwick loss causes BAA profits to nosedive
Government NIC hike will cost 57,000 jobs, says think-tank
Budweiser brewer had 'frat party' atmosphere, says senior female exec
Check out Lady Geek, our great new technology blog