Cheers! Diageo named Britain's Most Admired Company
A glittering assembly of the brightest and best of UK plc gathered at Claridge's last night to toast the winners of the Britain's Most Admired Companies Awards, 2013.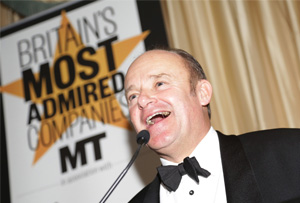 The awards, presented in association with BSI and now in their 23rd year, are unique in that the results are arrived at via a rigorous and independent process of peer review. You cannot enter, you cannot lobby, there is no panel of judges and no horsetrading to decide the winners.

The ceremony itself was co-hosted by editor Matthew Gwyther and MT's founder Lord Heseltine, and the top gong – Britain's Most Admired Company 2013 – went once again to premium booze supremo Diageo, past winner in 2008 and 2012.
And just to prove that we don't make this stuff up, here's a short video of Matthew Gwyther and deputy ed Andrew Saunders talking through the award highlights at Claridge's, only minutes before the curtain rose.