China 2: Growth slows to 'only' 7.5%
That may be the kind of figure that western economies can only dream of, but for China it represents a serious slowdown. Should we be worried?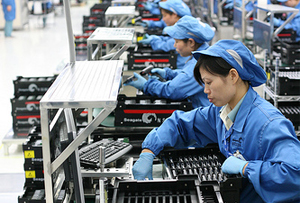 Chinese GDP in the second quarter fell to 7.5% year on year, down from 7.7% in the first quarter. That puts the country on course for its weakest annual growth rate since the early 1990s.

Any further quarterly falls would put the official target for 2013 of 7.5% in jeopardy – a serious embarrassment for a government which prides itself on making the numbers, having hit its forecast growth for every one of the past 15 years without fail. The fall has been blamed on a combination of falling global demand for Chinese-made goods, plus faltering domestic investment.

Just to put this into perspective, the UK economy posted an average annual growth rate of 3.3% for the boom years between 1993 and 2007, its highest ever sustained figure. The highest for a single year here was a freakish 10.6% in 1973, presaging its collapse to -3% the following year as the oil crisis took effect.

So wha does a couple of 10ths of a per cent either way matter for China, given that it is still growing at a pretty formidable rate? Well, reduced growth in China dents the prosepcts of international firms operating there for starters. But the real fear is that it may be less a blip and more of a turning point, that the decades of super-growth in China that we have all got used to could be drawing to a close.

That would be a pretty significant shift, not only for China to get used to but also for the rest of the world. Like the people who were running the western banks and treasuries back in 2008, the officials in charge of China's financial institutions don't have experience of managing anything other than rapid growth. Although the centrailised nature of the Chinese economy does in theory make it easier to control.

But it doesn't take too much imagination to see how a stalled China could rapidly wither the fragile green shoots of recovery in the west.

And faltering growth is by no means the only problem facing the world's second largest economy, there is also the tricky issue of how to deflate the country's huge credit bubble with the minimum of collateral damage, This – as we have seen in other nations recently – is by no means an easy task. Indeed, the Chinese authorities seem to be leaning towards choosing a lower-growth future in an effort to do just that.

So in these circumstances it's not hard to see why foreign firms operating in China are coming under the spotlight. Domestic pressure to do something decisive and populist when faced with a looming crisis is common to politics across the globe, and GSK in particular makes a good target, fresh as it is from paying a $3bn fine relating to aggressive marketing practices in the US last year.

But we should all hope that, in general, the Chinese authorities expend most of their efforts on tackling the macroeconomic hurdles they face, and don't waste too much time on such diversionary tactics, however tempting they may appear.
- Image: Flickr/Robert Scoble