China eyes miner
Baosteel, China's biggest steel company, looks like it could emerge as a rival to BHP Billiton in the fight for Rio Tinto. Mining companies may not be the most glamorous in the world, but with a price tag that could top the $200bn mark and a political row brewing in Australia, this takeover battle is shaping up to be a cracker...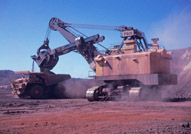 Baosteel chairman Xu Lejiang told the 21st Century Business Herald, a Chinese state-owned business paper, there was a 'strong possibility' that the steelmaker would join the fray. 'We are considering it, and the chance of putting forward a bid is high,' he was quoted as saying. He also said the offer would have to be higher than $200bn, which would really raise the stakes – BHP pitched its original approach for Rio at about $130bn, so Baosteel would be offering about half as much again.
Meanwhile BHP is refusing to take no for an answer despite seeing its bid rejected out of hand by Rio Tinto, who have described it as 'a couple of ballparks away' from the company's true value (and investors seem to agree with them, since Rio shares are currently changing hands at a big premium to its larger rival's offer). Still, BHP clearly has no intention of giving up the fight – it's apparently working on shareholders to try and convince them to get Rio's board to the negotiating table.
The other critical factor is likely to be the attitude of the government in Australia, where most of Rio's iron ore mines are located. Newly-elected prime minister Kevin Rudd is apparently a big China fan, but he might not be so keen on the idea of selling off Australian mineral assets to the Chinese – even if they are Australia's biggest trading partner