China uncertainty shakes markets (again)
Unhealthy Chinese manufacturing data give the stock markets a headache, but it's still far from clear whether this is a symptom of a dreaded hard landing.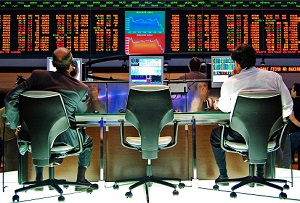 The stock market terminals may be showing red, but the mood among investors worldwide is clearly blue. By mid-morning in London, the FTSE 100, CAC 40, DAX Hang Seng, Nikkei and, of course, Shanghai Composite indices were all down between 1% and 4% - not exactly the panic of the last couple of weeks, but fairly miserable nonetheless.
The most obvious cause is a set of manufacturing data out of China. The official Purchasing Managers' Index (PMI) fell to 49.7 for August, the lowest level for three years and a sign that Chinese industrial production is (just) in contraction. But is that really enough to wipe billions off the value of the world's biggest companies?
Investors are plagued by two fears about China. The first is that the evident slowdown in its economy and the far more dramatic collapse in its equity markets (the Shanghai Composite has lost 40% since June) are in fact harbingers of a much more severe contraction to come. A 'hard landing' in China could drag first Asia then the rest of the world back into recession.