Chip champ ARM delivers triumphant Q2 results for new CEO
Demand for latest processors and graphics technology has given ARM even more of a leg-up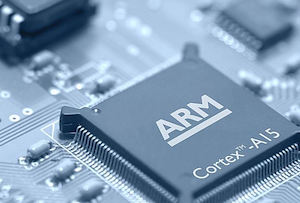 British chip designer ARM holdings has had a bumper second quarter, giving newbie chief executive Simon Segars a nice start to his place at the helm. Group revenues were up 26% year-on-year helping to record a net cash generation of £96m.

The boffins over at ARM HQ will be delighted. The boost to revenues has been put down a growth in adoption of ARM technology with a swathe of new licences signed for its processors.

'ARM has delivered another quarter of strong revenue and normalised earnings growth,' said Simon Segars, chief executive.

'We continue to see demand for ARM's next generation technology, and in Q2 we signed five licenses for Cortex-A series processors, and seven licenses for ARM's Mali graphics processor, demonstrating our leadership in both low-power processor and 3D graphics technology.

'During the quarter, our Partners announced exciting new design wins as ARM-based chips were selected for high-volume OEM products. These included many new smartphones and tablets, ARM-based 64-bit servers and mobile base stations.'

ARM has also cashed in on the strength of the smartphone market, leading the pack when it coms to semiconductor sales.

'In the second quarter ARM's processor royalty revenue again outperformed the semiconductor industry, growing at 24% year-on-year,' said Segars.

'In part this outperformance was driven by the growth in smartphones and mobile computing. These smart devices increasingly contain both ARM's higher-royalty yielding Cortex-A processor technology and also ARM's Mali graphics.'

The results will go down well with shareholders. Segars appointment to chief exec showed investors were more interested in 'business a usual' than any radical change. There certainly hasn't been any change in announcement styles. Judging by his comments, Segars is no less fond of 'results-speak' than his predecessor was. But what harm? Looks like one of the UK's biggest technology success stories is still nailing it.