Chocolate tax: doctors don't bite
Scottish GPs have voted against a tax on chocolate, which was proposed to help fight obesity.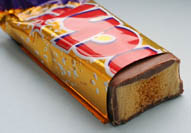 The plan, which suggested hitting chocolate lovers with a tax similar to those which infuriate smokers and drinkers, was proposed by Dr David Walker, a Lanarkshire GP. He believes chocolate had lost its status as a treat, and become a harmful addiction for some.
He may have a point, not least in its contribution to conditions including diabetes and high blood pressure, but surely a sweeping tax on one of life's simpler, less harmful pleasures would be the wrong thing to introduce at a time like this. The last thing the nation's embattled workers need right now is to have to dig out the calculator before committing to that little three o'clock lift.
It seems Walker's peers share that view. Doctors at a BMA conference in Clydebank defeated his motion by two votes.