Christine Lagarde likes George Osborne's infrastructure plan
Now is the time to invest, the head of the IMF says. But should it be with borrowed money?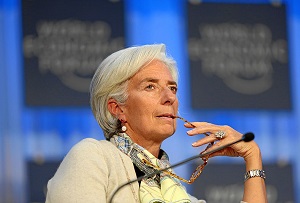 International Monetary Fund (IMF) chief Christine Lagarde hasn't always agreed with chancellor George Osborne, particularly over the latter's dogmatic attachment to austerity. But they do seem to be on the same page when it comes to infrastructure.
Asked about Osborne's recently-announced plans to hike infrastructure spending in the UK, Lagarde came out with what appears to be a clear endorsement. 'It is a win-win for the economy,' she said at the IMF's summit in Lima. 'It supports growth and activity in the short term, puts people to work, [and] improves medium to long term potential for growth.'
For a major figure in global finance, that's the equivalent of clicking the like button on a Facebook status – a sign of broad approval, but not necessarily to be taken as support for every aspect of it (as in, you like the fact your friend's in Morocco, but hate what they're wearing).