The Christmas business: it's a pantomime
Worried about how to manage during the festive period? Then take inspiration: from kids' pantos, of course...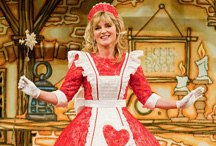 And so it begins: the snowstorm of Christmas-related press releases is upon us. First to land in our management stocking (groan) is a 'cracker' from consultancy Tinderbox, which has realised that the festive period brings peculiar demands that require careful management.

Fair enough, you may say – the issue of maintaining productivity while keeping everyone happy and festively lubricated is a valid one. Less so are the perils the consultant highlights: 'Decisions to be made on corporate Christmas cards, whether to include the leadership team in "secret Santa" and how to deal with those extended lunchtime trips to the pub.'

Even if the current economic pressures bring more pressing concerns, you may still feel the need for a swift dose of mulled management advice. The best solution, says Tinderbox, is to divide your staff into the personality types found in pantomimes. Oh no it isn't, you may say. But that hasn't stopped them publishing the following breakdown...

First up are the team's Ugly Sisters, for whom excitement over the social whirl of Christmas becomes 'the ultimate excuse to down tools and stop production as early as possible'. These people are best managed by communicating the Corporate Christmas policy as early in December as possible, and by encouraging them to remain focused on their own performance and the rewards they could gain by doing so.

Next up there's the Wicked Step-Mother, to whom Christmas is 'nothing more than a rude interruption to business as usual', and Buttons, the 'office leveller', i.e. any team member who's too mellow about everything to be affected by Christmas either way. Where does he fit? 'Make sure your door is always open and always take the time to spend with this character, they will provide you with a very balanced view of any office gossip.'

So, to recap: some of your team will be excited by Christmas, some will hate it, and others won't give two glass slippers either way. And if you really want to know who made whose wishes come true at the Christmas bash, speak to the quiet guy in the funny hat.
We have of course forgotten one key player. Last but not least, there's Cinderella, the central character in any Christmas analogy. This team member is 'usually one step ahead of the boss in everything from last-minute invitations to arranging the transport home, they put others first and themselves last which can result in a last-minute decision about what to wear'. Nope, we have no idea what that means either.

So how to manage your team's Cinderella? 'Trust her implicitly' apparently. Even when see's out in the Christmas bash car park at 2am, talking to invisible people and trying to jump-start a pumpkin.
Of course, we wouldn't wish to appear too cynical about Christmas. Tinderbox has inspired our own recommendation: enjoy a well-earned break, but don't lose sight of the need to make that handful of magic beans grow into something worthy of the cow you invested. That's the most likely route to a future where you're skipping about, mocking the recession which you may find, in true panto fashion, is behind you…