Christmas cost-per-clicks
Well that's the first weekend in November out the way, so chances are that your thoughts are starting to turn to the painful experience that is Christmas shopping. In recent years, many of us have tried to avoid the high-street scrum by snapping up our gifts online – but although that may be cheaper for you, it comes at a cost to your business.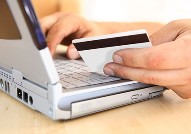 Employees' online shopping could cost businesses nearly £2bn in productivity between now and Christmas, according to web filtering specialist Bloxx. Online sales hit nearly £11bn last year, and about half of this of that was done at work. If we all spend just one hour a week shopping online, Bloxx reckons that the total cost to business (based on an average salary of £26k) will be about £260m a week.
'With the addictive nature of online shopping, it can be all too easy for employees to get carried away and end up spending hours online during the working day,' said Bloxx director Paul Irvine, no doubt struggling to take his eyes off an eBay auction.
The (slightly killjoy) Bloxx solution is to get everyone in your business signed up to a new and improved Acceptable Use Policy, which makes it clear what they can and can't do on the internet during the day – and then coming down hard when people break the rules.