Christmas fun as UBS plays Secret Santa
Some wags over at UBS have been coming up with 'comedy' present ideas for their friends at the ECB...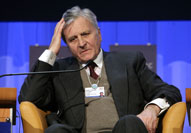 To be fair, bankers haven't had too much to smile about this year. Their industry has taken a very public battering, and their days of telephone-number bonuses must seem like a distant memory. So you can't really blame them for trying to inject a bit of humour into proceedings just before Christmas. Over at UBS, the fun-loving guys and girls in the European fixed income team have apparently been passing the time away by dreaming up some Secret Santa presents for the technocrats of the European Central Bank. But wait, it gets funnier: they're keeping costs down, so they can get them past the killjoys in their Compliance department!
According to the note (for which we are indebted to FT Alphaville), the UBS wagsters have come up with gift ideas for six ECB council members. President Jean-Claude Trichet (pictured) gets the priciest present: a hand-held balloon pump 'for inflating the Euro area economy', which apparently comes with a 'universal nozzle to fit most types of economy, er, balloon'. We also liked Deutsche Bundesbank president Axel Weber's gift: a set of plastic snowstorms, in the 1950s German style, to reflect his 'admirable adherence to traditional German monetary policy'.
And there's more: fellow German Gertrude Tumpel-Gugerell, who's apparently in charge of Euro payment systems, gets a 15,000-piece jigsaw 'to match recent collateral framework changes'. Economist Jurgen Stark gets a 'cheap psychic reader... helpful during such trying economic times'; Ireland's FSA chief John Hurley gets a 'natural wheat bag all-over body pillow... to help his sleepless nights'; and Spain's Miguel Fernandez Ordonez would apparently love a toy bulldozer, to encourage his 'fiscal stimulus to boost infrastructure in the country'.