Christmas isn't cancelled after all
Good news for retailers: reports of Christmas's demise seem to have been greatly exaggerated...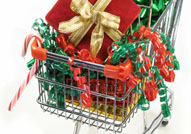 More than three-quarters of us are planning to spend at least as much this Christmas as we did last year, according to a new report from Deloitte. 57% of consumers are apparently planning to match last year's outlay, while a bullish 19% are planning to splash out even more on their novelty reindeer horns and stuffing balls. However, overall spending is expected to fall - and although retailers have reasons to be hopeful, things aren't looking so good for the beleaguered leisure industry…
Deloitte's study found that the average UK consumer is planning to spend £655 on gifts, socialising and food and drink this Christmas, a 7% drop from last year (and the first drop for five years). However, Deloitte reckons it's not all doom and gloom. 'We think the talk of Christmas being cancelled is overplayed,' says head of retail Tarlok Teji. 'Whilst total planned spend including socialising may be down, the majority of consumers intend to spend the same as last year'. It's predicting that retail sales will be 'broadly flat… with a slight fall possible'. Not great, but not quite the Armageddon some have been predicting.
Of course some retailers will do better than others. For instance, Deloitte reports that the proportion of people planning to do their Christmas shopping in supermarkets has jumped from 52% to 66%, with respondents citing the added convenience and value they offer. But that could be bad news for other general retailers, not to mention specialist food sellers like farmers' markets. And with many customers planning to trade down to cheaper brands, margins are bound to be affected across the board.