Christmas rush finally begins?
The UK finally took to the high street this weekend, with 9% more of us hitting the shops than at this time last year. Could there be some light at the end of the tunnel for retailers?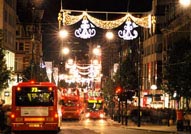 According to Experian's FootFall index, which monitors shopper numbers, shops got nearly 4% more visitors on Saturday than on the same day in 2006. And on Sunday, the jump was even more marked, at nearly 9%. Retailers worried about declining consumer confidence have been cutting their prices to lure in some more trade – and it seems to have done the trick.
'The month-long waiting game between consumers and the high street finally came to an end this weekend,' said Experian's Martin Davies. 'Following two washout weekends, retailers finally gave in last week and launched extensive pre-Christmas sales.'
Of course, it remains to be seen whether these extra shoppers actually bought anything while they were in there. Perhaps it was just colder than last year, so they needed to go in for a warm.