Too much Christmas spirit
Christmas parties can be a dangerous thing. Just ask Manchester United...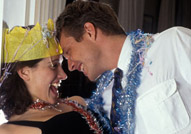 News that Man U reserve Jonny Evans is 'helping police with their enquiries' over an alleged rape on the night of the team's Christmas party just goes to show what a nightmare these events can be. With alcohol flowing liberally and high spirits abounding, the chances of someone making an exhibition of themselves are incredibly high.
Of course, a criminal investigation is a pretty extreme outcome – that's the kind of thing that would really bring your HR department out in a cold sweat. But barely a Christmas party goes by without someone torpedoing their career by getting embarrassingly drunk, saying something incredibly rude to their boss, or doing something unmentionable in the photocopying room with a colleague who they don't even particularly like.
We have a lot of sympathy for HR departments at this time of year. It's not exactly as though they can send round an email beforehand telling people not to get drunk or boisterous – that's what the Christmas party is all about. Instead, all they can do is plaintively ask everyone to have a good time and let their hair down while remembering not to be silly – whereupon everyone just accuses them of being soulless killjoys. But they're the ones who'll be left picking up the pieces when the young associate comes in the next day and accuses the senior partner of groping her during the cheese course.