Christopher Kelly: 'Britannia was the Co-operative Bank's downfall'
Yet another report looking into the Co-op has declared its management less than effective. Same old, same old - but what's next for the mutual?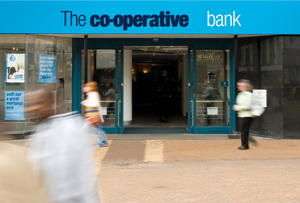 - What hope for mutuals after the Co-op?

Another day, another report accusing the Co-operative Bank of bad management and general bunglery: this time from Sir Christopher Kelly, who was appointed in July last year to lead an independent review into the events that led to the £1.5bn capital shortfall discovered in its balance sheet last year.

Sir Christopher's review (which looks exclusively at the bank) is pretty similar to that of Lord Myners, who stepped down from the board of the Co-op earlier this month after his own report was rushed out following the departure of group chief executive Euan Sutherland in March. Then there was the corporate nightmare that is the Reverend Paul Flowers, who has been charged with possession of illegal drugs. Incidentally, Kelly notes that Flowers was the only member of the Bank's former leadership team who declined to be interviewed for his report.

What are Sir Christopher's findings? Firstly, that the Co-op's problems weren't caused by a one-off bad judgement: it it was a 'sorry story of failings on a number of levels'.

But he adds that its acquisition of the Britannia Building Society in 2009 (which the Co-op's 2010 annual results proudly declared to be 'the UK's first super mutual'. Not so super now...) was one of the major catalysts of its decline.

'The roots of the shortfall lie in a merger between the Bank and the Britannia Building Society which should probably never have happened. Both organisations had problems. Bringing them together exacerbated those problems,' he said. Indeed, things had got so bad at Britannia, he notes that it was on a watchlist drawn up by the Financial Conduct Authority. Not the ideal acquisition target, then...

It didn't help, though, that hardly anyone who has run the bank over the past half-decade had the right experience to manage it, according to Kelly. He points out that Neville Richardson, Britannia's former chief executive who then went on to run the merged bank, built up a 'toxic' loan book (mainly bad property loans), and his replacement, Barry Tootell, who started in 2011, 'struggled'.

It's got to smart that Kelly also accuses the Co-op of a 'legacy of mis-selling payment protection insurance, which was not unusual at the time, but is particularly disappointing for an ethical bank'.

There was one final factor in the report: the financial crisis. Ironically, because the Co-op got most of its funding from its own customers' deposits (rather than an investment bank, a la Barclays), the actual crash didn't particularly affect its day-to-day business. What did it for the Co-op was a long period of low interest rates (five years and counting), which pushed down its margins. Add to that problems in the property market (to which it was heavily exposed) pushing down the value of the Co-op's assets, and you're looking at a a £1.5bn hole, right there.

We'll leave the last word to Professor Michael Mol of Warwick business school, who makes an interesting point about whether mutuals should be making acquisitions at all.

'We know that most mergers and acquisitions end up in failure. We also know that cases of success often rely heavily on having strong skills at integrating the acquired firm with the acquiring firm.

'Co-operatives in general do not really have those skills, because they are much more suited to steady, organic growth and the Co-op Bank and Group have certainly proven they are no exception to this rule. The acquisition of Britannia and Somerfield [which it bought for £1.6bn in 2008] should never have taken place.

'Co-op Group CEO Peter Marks and the various Co-op Bank CEOs and chairmen, including the Reverend Paul Flowers, have grossly overestimated their ability to integrate Britannia Building Society and Somerfield. I would also suggest that their decision-making really runs counter to the Co-op model; they were running the organisation more as their personal empire.'

It's an interesting point: but whether or not any mutuals should make acquisitions, it's clear the ones the Co-op made were fatal. Right now, the group is staring into the abyss. Forget super mutual: it's going to take something supernatural to rescue it now.