The Church of England is about to become a financial adviser (but it still can't get out of Wonga)
The Anglican church might be planning to drag people through its doors by offering free financial advice, but it still hasn't worked out how to divest from the payday lender.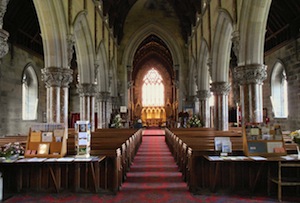 The Church of England has set out its plans to take on payday lenders by giving people financial advice in church. It's a win-win for the Anglicans: burnishing their halos and getting bums on pews at the same time.

The Church Credit Champions Network (mouthful, much?) is going to encourage people to use credit unions instead of Wonga and its ilk, with newly-trained church members-cum-financial advisers piloted in the dioceses of London, Southwark and Liverpool. It's advice only though - no money will actually change hands in front of the altar.

Archbishop of Canterbury Justin Welby has said he wants to put payday lenders 'out of business', while Bishop of Stepney Adrian Newman told the BBC, 'You can either whinge about the Wongas of this world, or you can provide an attractive alternative'.

This is, of course, an opportune moment to remind readers that the church's pension fund is still invested in the US venture capital firm that led Wonga's 2009 fundraising and hasn't yet worked out how to get rid of its stake.

Meanwhile, Sir Hector Sants, the former FSA chief exec who joined Barclays in 2013 and then left the bank the same year due to stress and is now chairing the church's credit unions taskforce, also gave his two cents on the matter.

'I am confident that the successful implementation of the Church Credit Champions Network will equip churches to be even more relevant to their local communities, and transform the lives of the many people we hope will be served as a result,' he said in a statement.

Relevant enough to turn around decades of falling church attendance? Only if the cash-strapped start thanking God for their financial advice.